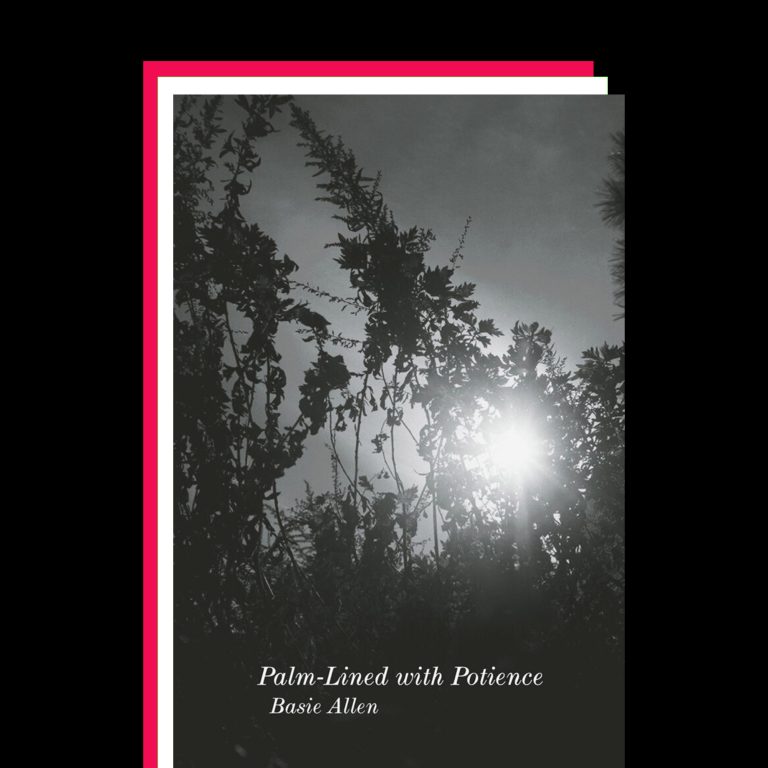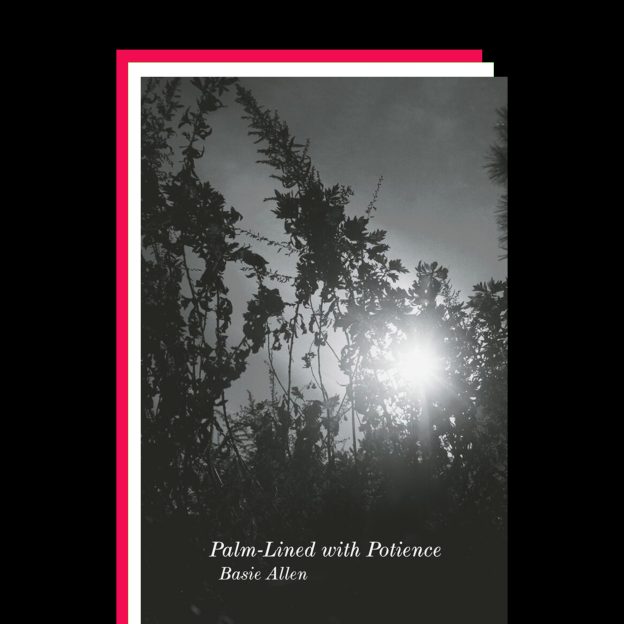 Palm-Lined with Potience — Basie Allen
by
BUBBLE GUM IN BIG CITY BRACES: A REVIEW OF BASIE ALLEN'S PALM-LINED WITH POTIENCE
In an interview with Marcus Leslie Singleton published in BOMB Magazine, Basie Allen states that with poetry "it's almost my impulse to read from this country's dislocated relationship to race and bigotry." And many of the poems in his 2022 collection, Palm-Lined With Potience, act on this impulse. The stanza that begins the first poem of the book, "Pretty Is (2.0)," is a confident assertion of the speaker's own authority as a self-possessed Black man.
in the vanguard of my owned
blackness ❍ I am the air
off the many so year-ago trees
that be the prettiest is of all
From those powerful lines, Allen's writing proceeds to discuss subjects such as family, loss and place through lyrical, innovative, and deeply moving prose.
To take on these subjects, he interacts with his peers both past and present. Sometimes, such interactions appear as name drops, such as the footnote for "Pretty Is (2.0)" that speaks directly to fellow poet/artist Kevin Young: "what up! we should build–na' mean?" Other times, the references are subtle, such as "maggot brain/ of george" which calls up George Clinton's album, or later in the same poem when the speaker mentions poet Yusef Komunyakaa. In a similar mode, "Mo' Dirt for Henry Threadgill During Quarantine" is an ekphrastic piece that plugs the avant garde artist's album Dirt…And More Dirt in a way that's both colloquial and experimental. Other conversations in Allen's poems occur between the poem and the speaker's friends and relatives, a vast array of inspirations both famous and not famous at all.
Though it is reductive to talk about "high" or "low" culture, Allen's writing enforces the importance of intersections between the culturally proclaimed intelligentsia and those who either reject or otherwise avoid classical education. The vocabulary, which can stretch from colloquial to slang to historical in a single couplet, serves as a challenge to the reader, an assertion that the reader should learn to understand a vast array of people and their language. A perfect example of this is the poem, "Nature Haiku with My Hittas:"
in our new canoe
we paddle thru the Bronx zoo
black as Flaneur night
Allen's speaker compares his "Hittas" (a word my English teacher would never use) to "Flaneurs," (a word my poetry prof floated as an ideal). But Allen's unexpected simile offers an apt comparison. Through such surprising language, his poetry can grow the reader's world.
As a collection, Palm-Lined with Potience encompasses a full life in a large world, but it also speaks to the worlds that are shrinking. While many of Allen's poems are celebrations of Blackness, America's aforementioned "dislocated relationship to race and bigotry" is often brought to the fore in a refreshed light. "For the Disappearance of Our Neighborhood" is a poem about gentrification. It focuses on the image of ""Nikes over powerlines/that jellyfish black//over the city's hood". The city is the noise of bars "until the sips are all gone" or "like bubble gum/sticking-in big city braces." As the speaker's world shifts from experience into memory, he calls for his people to "throw our shoes up/ on power lines" as a defiant act. Once again, the speaker asserts himself as a vanguard, as in the foremost part of an advancing army. As Basie Allen's poems shift in theme and subject matter, his roots stay true. They branch and stretch out, maybe, sometimes incorporating fresh lexicons and trying on original combinations, but they stay true to his rhythm. He never loses sight of his source.
---
NICK GARDNER reviewer
Nick Gardner is a writer, teacher, and recovering addict. He has published one book of poetry, So Marvelously Far (2019), through Crisis Chronicles Press, and his chapbook Decomposed (2017) is published through Cabin Floor Esoterica. His poetry and fiction has appeared in The Atticus Review, Ocean State Review, Fictive Dream, and other journals. In his eighth year of recovery from opioid addiction, his research involves the current drug epidemic as well as alternative recovery methods.