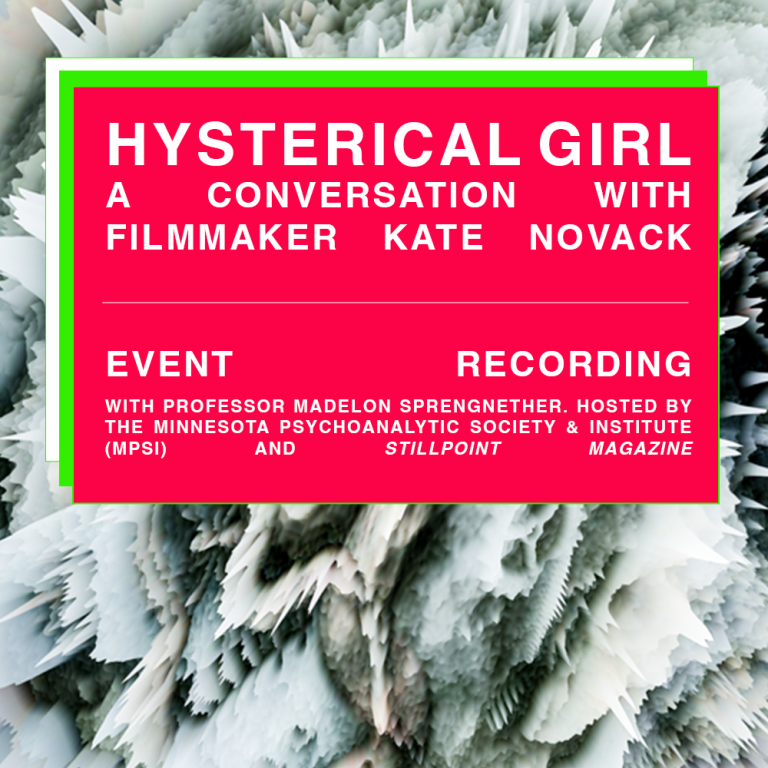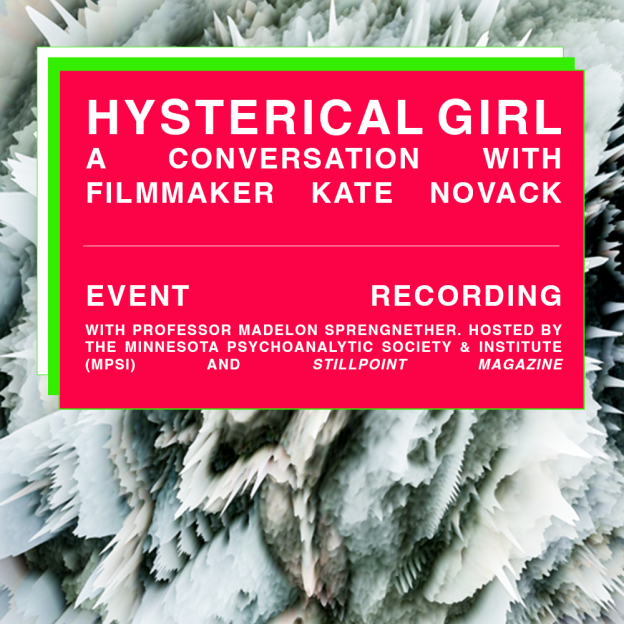 Hysterical Girl: A Conversation with Kate Novak
by
On Saturday May 1 2021 Stillpoint Magazine and the Minnesota Psychoanalytic Society & Institute (MPSI) hosted a conversation between film director Kate Novack and Professor Madelon Sprengnether. The discussion focused on Novack's 2020 Oscar-nominated short film Hysterical Girl. This is a recording of the event, which occurred via Zoom.
Hysterical Girl (2020) takes a critical look at Sigmund Freud's famous Dora case, his only extensive case study focused on a woman.
You can view and download background notes on the film and related topics discussed in the conversation here. Kindly compiled by Professor Sprengnether.
Read more about the event here.
---
KATE NOVAK
Kate Novack is an Emmy-nominated director and producer of documentary films. Her most recent film, Hysterical Girl, was shortlisted for an Academy Award and nominated for best short by the International Documentary Association. It revisits the only major case history that Sigmund Freud produced of a female patient. Reviewing the film in The New Yorker, critic Richard Brody called it "Extraordinary… a feature's worth of ideas, emotions, allusions, references, and associations condensed into a mere thirteen minutes." Following its selection as a world premiere by SXSW in 2020, the film was acquired by The New York Times' Op-Docs, the short film arm of the paper's opinion page, and Grasshopper Film.
Kate also directed The Gospel According to Andre (Magnolia Pictures, 2018), which was nominated for best LGBTQ documentary of the year by the Society of LGBTQ Entertainment Critics, and was a producer and writer on Page One: Inside the New York Times (2011). Over the past 15 years, Kate has worked in a producing or story role on several films, including Ivory Tower (CNN Films/Participant Media/Samuel Goldwyn Films, 2014), The First Monday in May (Magnolia Pictures, 2016) and A Table In Heaven (HBO, 2008).
MADELON SPRENGNETHER
Madelon Sprengnether is a poet, memoirist, and literary scholar. She is Regents Professor Emerita of the University of Minnesota. Her publications include The (M)other Tongue: Essays in Feminist Psychoanalytic Interpretation (Cornell UP, 1985), Shakespearean Tragedy and Gender (Indiana UP, 1996), and The Spectral Mother: Freud, Feminism and Psychoanalysis (Cornell UP, 1990). In addition, she has published three memoirs and three collections of poetry. Her most recent books are Great River Road: Memoir and Memory (New Rivers Press, 2015), Near Solstice: Prose Poems (Holy Cow! Press, 2015), and Mourning Freud (Bloomsbury Academic, 2018). For more information, see her author website.
MPSI
The Minnesota Psychoanalytic Society and Institute (MPSI) is a vibrant and growing community for psychoanalysis in Minnesota and the Upper Midwest. MPSI is a not-for-profit educational organization, providing a variety of training and educational opportunities in the field of psychoanalysis for members, varied professionals as well as the interested general public.