with DIGITAL BOUQUET
---
artwork by SARAH KHAN
Saturday 3 December 2022. Kintyre, Scotland.
Driving to make something from nothing, nearly, like miles, like what's happened here, or, what curse. America, & its vast
uncountable turns. This, the first time I went.
Before I'd met her, in England, far too young, obsessing, setting a pulpit by the water:
inversions without end, I'd been saying, make a dull boy.
And so years later, the wide flat lands of upstate, concrete beasts, hanging meat, the end
of everything like I'd always been in it, unsurprised to be standing aslant knee deep in mud
dispensing opioids in one hand, fingers sober on the other, taking pictures.
What am I doing here? Really? over & over,
over miles & then years tying & untying my tongue
pushing printouts into their hands.
And now here I am much later, mute, watching things as they move over a lake.
*
I do not want to show those photographs, grainy & off, outside of good, lines showing. We'd driven
together & talked, is all.
Later: I don't want to show these photographs, to hear him say, boring, boring, not boring! Dissatisfied,
teacherly despite us both, getting over cheap cups & one more note, can I just—. Language isn't enough.
*
Later still, photographs of nothing on the beach where bodies had been, walking for miles until turning back to see the rain
coming in, the end of the day overtaking. Thinking then, of before, with eyes smoking, storm-chasing, white truck dust trails & recalling her story
of hiding in the toilets of the diner, red heels
flashing askance through the glass
on & off
on & off
Antwerp in her bag
us in the eye of it, & desperately, hooking heels
one here
one there
things falling
*
Four days in & I had not changed a single item of my clothes. You've looked the same this whole time,
he said,
coat over coat, hands stuffed in pockets until breaking into a beer, her setting the fire,
metal seats by the water. The story went: a crash, a phone call, the hurricane
from a helicopter landing. Later, showing the tattoos on his ankles, her mouth closed.
And after, a feather of photographs like playing cards, my one hand to the other & back again, her eyes
not blinking. But it was something, I say, a pathetic look on my face,
right?
Both waiting for an answer.
Witchcraft, flicking that lighter.
No, I said nothing—was never hysterical, like that.
*
And today, wishing for dolphins in the water, hands deep into my pockets, a low glow of winter sun
mirrored in pools foaming between the rot & bog of seaweed everything both up & down I think of her,
that lake in the north,
how far we have been, since then, speaking into the ether.
How people have come with us & gone, like nothing, nearly, except not that
at all, & never can be. Like miles, displacing, dis-locating, goodbyeing,
hooking heels at the ends of the earth.
No, I'll say nothing.
It is always too soon, the ending.
---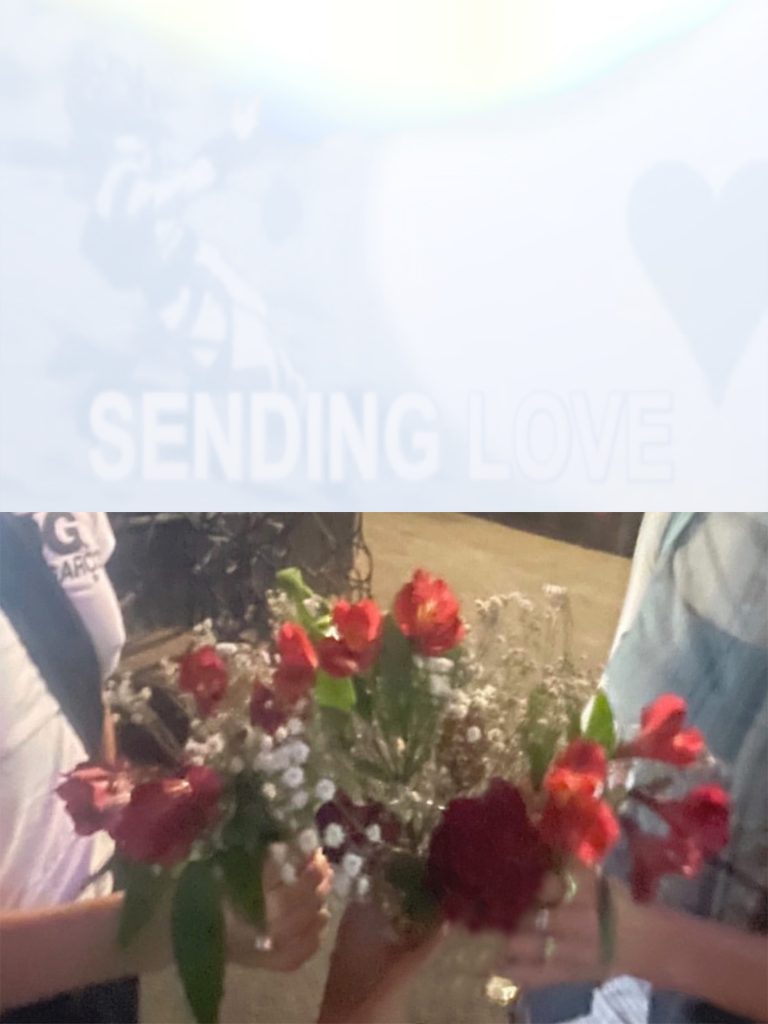 A bouquet for Stillpoint <3 In the words of Octavia Butler, "All that you touch You Change. All that you Change Changes you."
– Sarah Khan
---
KATE HOLFORD writer
Kate Holford is co-founder and Art Director of Stillpoint Magazine. Based in Glasgow, she is an artist and writer. She has studied at Glasgow School of Art and Falmouth Art School. Previously, she was Deputy Director of Stillpoint Spaces London, and before that she ran a bookshop.
Kate's photographs "Dear Lithium" were featured in Issue 006: SEIZE, and "After Annie" in Issue 001: FANTASY.
SARAH KHAN artist
Sarah Khan is an artist and writer working with film, text, sound, and performance. Through her practice, she draws on her lived experience and collective memory to explore themes of cross-cultural identity, embodied resistance, and the boundless potential of worldmaking when exclusion is confronted by the "othered." Sarah is a co-founder of the collective Baesianz. She graduated from the Royal College of Art in 2021.
Sarah was featured in Issue 010: JUDGE with her film Inside Out.
© Copyright for all texts published in Stillpoint Magazine are held by the authors thereof, and for all visual artworks by the visual artists thereof, effective from the year of publication. Stillpoint Magazine holds copyright to all additional images, branding, design and supplementary texts across stillpointmag.org as well as in additional social media profiles, digital platforms and print materials. All rights reserved.